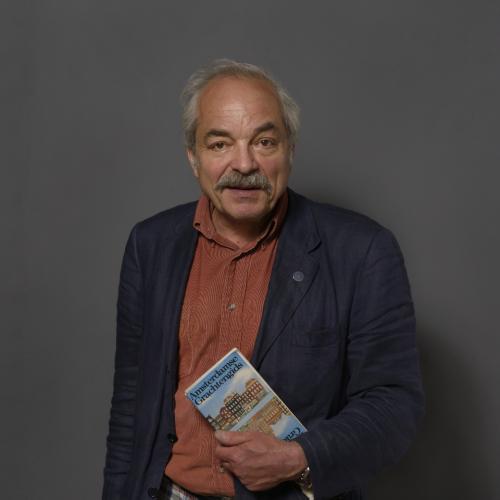 City guide, writer, journalist and custodian of monuments.
Actually I'm an English teacher but I've never really worked as such. In my modest world it's my weekly article in the "Stadsblad De Echo" - circulation, 496,000 - that has the highest priority.  The column "Amsterdam", which is always accompanied by a photo, appeared first on 5th September 2001 and there have been more than 500 instalments.
My career as a writer started in 1978 when I wrote the texts for "The Amsterdam Canal Guide". The first copy of the book was presented to the alderman for monuments on 11th May 1978 in the Amsterdam History Museum.
On the photo I have the second edition of 1997 in my hand. It has 368 pages and drawings of all the façades of the Singel, the Herengracht, Keizersgracht and Prinsengracht.  On my blue jacket I'm wearing a badge with, in three languages, the words: werelderfgoed, patrimoine mondial and world heritage.
On 1st August 2010 the canal belt of Amsterdam was designated as such by the UNESCO. I never leave the house without this badge.
The photo was taken on 18th May 2012 in front of my favourite colour - grey. It's a colour that goes with anything.